De Luca sindaco del mese per la City Mayors di Londra
Vincenzo De Luca è stato indicato come «mayor of the month» – sindaco del mese – dal sito web inglese «Citymajor.com», la pagina web della City Mayors Foundation , nata nel 2003, che promuove «il buon e onesto governo locale di tutte le città del mondo». «Il codice etico pubblicato nel sito – si legge nel sito – è stato concepito per i sindaci che desiderano compiere il loro dovere al di là di ogni compromesso. Molti sindaci sono già firmatari del codice, tra cui il sindaco di Quebec City, Mexico City, Jakarta, Tel Aviv, Ankara, El Paso, Cape Town, Oklahoma City, Perth, Auckland e molti altri». Tra i sindaci già pubblicati nella serie «Mayor of the month» ci sono quelli delle città di Londra, New York, Rio de Janeiro e Jakarta ma anche sindaci da città più piccole come Bilbao, San Antonio, Izmir e Osaka. City Mayors Fondation consegna ogni due anni il premio al miglior sindaco del mondo, attraverso una nomination on line aperta a tutte le città.
Questo il testo dell'articolo originale:
Mayor of the Month for March 2013
Vincenzo De Luca


Mayor of Salerno, Italy




By Brian Baker and Matteo Dalle Fratte
1 March 2013: The travel publisher Lonely Planet has credited Mayor Vincenzo De Luca with the transformation of Salerno to one of the most liveable cities in Southern Italy. Years ago, the city was perceived as a rather unattractive port avoided by most people travelling to and fro the Amalfi coast. Not any more, wrote the travel guide and described the city centre as 'vibrant and buzzing'. Mayor De Luca won further plaudits early this year, when the Italian newspaper Il Sole 24 Ore published research that found him to enjoy the highest approval rating of any city leader in Italy. Some 72 per cent of citizens thought he was doing a good job.
De Luca was first elected mayor of Salerno in 1993 and re-elected four years later with more than 70 per cent of the vote. Due to term limits he had to step down in 2001 and instead contested and won a seat in parliament for the centre-left Olive Tree slate of candidates. He gained re-election to parliament in April 2006 and two months later also stood again as a mayoral candidate for a local left-wing coalition in that year's local elections. In a second round of voting, De Luca defeated a centre-left candidate, gaining more them 53 per cent of the vote. By 2011, the mayor's popularity climbed to unparalleled heights and he won re-election with more than 74 per cent of the vote.
The City of Salerno traces its history back to pre-Roman times. During the late Roman Empire Salerno (Salernum) flourished as an administrative and commercial centre and in the Middle Ages, under various rulers, attracted some of the most renowned medical scholars of the time. Since the end of World War II, the city's population increased from 80,000 to almost 140,000. In recent years, world-class architects such as Zaha Hadid, David Chipperfield, Ricardo Bofill and Renzo Piano have designed important public buildings in Salerno.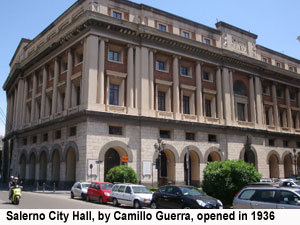 In a conversation between the City Mayors Foundation'sItaly Editor and Mayor De Luca's press secretary days before the country's general election on 24 February 2012, the latter explained that Salerno, together with most Italian cities, wanted a new government to address urgently Italy's burgeoning bureaucracy. The savings made by streamlining public administration could be used to finance many long-overdue municipal projects, the mayor's spokesman said. In particular he cited the implementation of sustainable energy policies, the funding of nursery schools as well as improved services for the elderly and disabled. He also called for a less wasteful use of European Union funds.
When Vincenzo De Luca resumed the office of Mayor of Salerno in 2006, he made energy efficiency and waste recycling two of his immediate priorities. The use of solar panels in public buildings has been steadily extended since they were first installed in a school in 2006. Public lighting in the city is now generated from solar power sources and the municipal council's energy consumption has been reduced across all sectors.
In 2010, the mayor signed up to the Covenant of Mayors, an initiative launched by the European Commission to endorse and support the efforts deployed by local authorities in the implementation of sustainable energy policies. In November 2012, Salerno submitted its Sustainable Energy Action Plan (SEAP) to the Covenant of Mayors and the EU Energy directorate. The plan envisages a 23 per cent reduction in CO2 emissions by 2020. It was produced by the city council in partnership with the University of Salerno.
The city has already started to introduce energy-saving lighting in public areas such as a switch to high-pressure sodium lights in the city's parks. Remote heating plants will in future use natural gas instead of diesel fuel. Both measures should lead to a reduction in CO2 emissions as well as save money.
Under De Luca's mayorship, Salerno has become the Italian city with the highest levels of waste re-use and recycling. It's success contrasts starkly with the situation in other parts of the region. In 2011, the newly elected mayor of Naples studied the waste management of Salerno and implemented a similar scheme of separated garbage collection in his city, whose garbage crisis in 2008 made international headlines and contributed to the fall of the then centre-left government under Romano Prodi.
The success of separated kerbside collection schemes in Salerno has also brought political benefits to the administration as it has avoided the need for an incinerator, which is always a contentious issue. (Naples abandoned the building of an incinerator and now 'exports' one shipload of garbage to the Netherlands, where it is burnt in Rotterdam.)
In his manifesto for his 2011 to 2016 term as mayor, De Luca committed himself to further promoting recycling and to encourage business to re-use raw materials and develop less wasteful packaging. The mayor believes an efficient and modern waste management system will not only be environmentally beneficial but also create jobs.
De Luca is also a firm believer in pre-school education. The percentage of young children being offered places in municipal nursery schools has already increased from 13 to 21 per cent. The mayor hopes that by the end of his term in office, some 30 per cent of pre-school kids will attend nursery education in municipal facilities. The city also wants to extend the opening hours of kindergartens. On an experimental basis, one school has already added July to its opening calendar. (Nursery schools and kindergartens are usually closed in July and August.) The school also offers evening supervision – from 17:00 to 20:00 hours.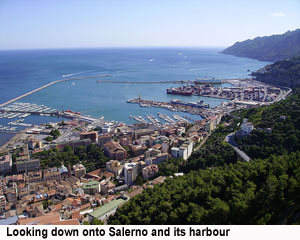 The port is one of Salerno's most important industries and the mayor is keen to develop it further. It is Europe's leading port based on goods handled per square meter. It is used by combined freight/passenger vessels, container ships and roll-on/roll-off ferries. The port's attractiveness to cruise liners will be enhanced considerably when the new terminal buildingStazione Marittima, designed by Zaha Hadid, will open later this year. (One of Zaha Hadid's many international projects was the Aquatics Centre for the 2012 London Olympics.)
The construction of a new marina is also underway. Marina D'Arechi began in September 2010 and in March 2013, 480 of the 1,000 berths in the scheme were available for use. The development includes an urban park, a suspended bridge and a major core building and has been designed by Santiago Calatrava. The landside element includes 27,000sqm of gardens, landscaping and pathways. It is set for completion during 2013.
However, further expansion at its current location is unlikely. There is no development land available adjacent to the port and it lacks adequate road and rail connections. The city, together with the university of Salerno, has therefore developed a plan to construct a new port island to the south of the city. According to the mayor, the scheme would also include an area of some 100,000sqm for to ship building and repairs.
In 2007, Salerno started to roll out city-wide Wi-Fi coverage. Eventually, free Wi-Fi access will be available throughout the city. The system will also allow residents living in the hilly outlying areas of the city, which are currently not served by broadband, to enjoy high-speed access to the internet.
Critics of Vincenzo De Luca have accused him of being over-fond of grandiose projects. Indeed, in the early 2000s the mayor was linked to a corruption enquiry in connection with plans to construct a mega sea park on industrial land. The scheme was eventually abandoned.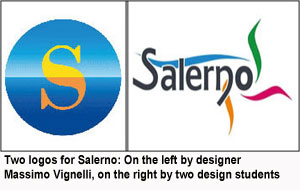 Mayor De Luca's desire to bring famous names to Salerno came also under criticism when, in 2011, the city commissioned Massimo Vignelli to create a new brand for the city only months after it had invited young designers to come up with a new logo in a competition entitled 'A Brand for Salerno'. The competition was won by Marco De Sangro and Albano Luana, two 25-year old students from Taranto, who received 3,000 euros for their efforts. Massimo Vignelli was paid 200,000 euros for his design.
Today, the mayor is determined to push ahead the development of thePiazza Della Liberta (Freedom Square) and a crescent reminiscent of the Royal Crescent in Bath. The mayor believes the square and the crescent will become symbols of the new Salerno and develop into major tourist attractions. Opponents have described the design of crescent as ugly and out of scale with its surrounding area. They claim it will obscure views of the Amalfi coast from the old town. Italy's Council of State is due to rule on objections made to the crescent.
The mayor is also championing the Vela (Sail), an 80-meter high hotel development modelled on a similar building in Barcelona. It has also been compared to the Sail Tower in Dubai.
Vincenzo De Luca was born near Basilicata in 1949. His family moved to Salerno when he was a young child and he was educated at the University of Salerno where he secured a degree in philosophy. After joining the Communist Party of Italy he subsequently became a paid official and was provincial secretary for some years during the Enrico Berlinguer 'historic compromise' era. He continued as a paid official after the party transformed itself into the Democratic Party of the left.
(040313)